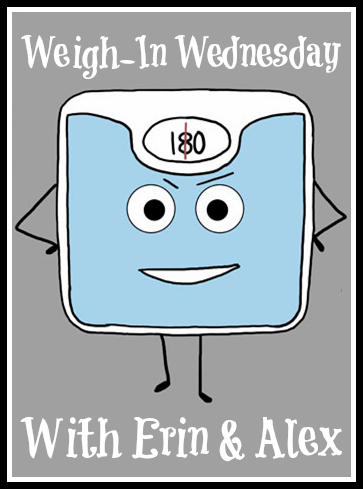 Another week, another weigh-in. As always, grab the button and come link-up with me and
Alex
!
How are you guys faring in the land of bust-my-ass-and-go-hungry-all-for-the-sake-of-bathing-suit-season? Things here are going ok, just ok, let me explain...
I'm eating good and staying under or very close to my 1,200 calorie limit most days. I'm not hungry, for the most part, so it's been fairly easy sticking to my diet. A couple of slip-ups here and there, but nothing to derail my progress at all. I'm drinking a lot of water, which I know is key to this weight-loss thing. I'm running. I actually switched up my running this week and it's going really well. With C25K I was staring at the clock, waiting for the app to countdown and tell me when to walk instead of run. I started to feel like that wasn't enough, like I wasn't pushing myself enough so I decided to do intervals on my own. I run at a decent pace for as long as I can and when I can't run any more, I walk for a bit. I repeat that cycle for 35-45 minutes/night and I feel like I'm making much more progress than I was on C25K. I'm running longer and I'm pushing myself further. I'm going to keep doing my running this way until I feel like I'm not being challenged enough and then I'll switch it up again.
I've noticed a few non-scale victories this week... my pants are getting looser, my face isn't quite as full, and my stomach is feeling so much flatter since I'm drinking water instead of diet coke. Is my face skinny or is my stomach flat? No, not by any means... but I'm noticing a difference and they're on their way. Those are three pretty great things to notice in one week. That? Is a big success.
Now let's talk about the scale. It's not moving very much again. (This is becoming a
theme
when I
know
I've had a good week.) This week I had a .6 lbs loss. Why? I have no idea. Well, that's a lie. First of all, I'm beginning to learn that it takes my body a week or so to catch up. A few weeks ago when I did not so great with the eating and exercising? I still lost. Now when I'm doing good? I'm hardly losing. I'm really considering putting my scale away for the month and just concentrating on making good choices and the changes in my body, the way my clothes fit, etc. The battle with the scale is just so frustrating and I know at times it's not a real representation of what's been going on. The second reason why I didn't see a big loss this week?
You're totally about to get too much information, not very lady-like information, so you've been warned to look away now.
I'm not pooping. Yes, I just posted that on the internet for all the world to see. It's true though, and I have no idea what's going on with all of that, but I do know it certainly doesn't help in the weight loss department. So there you have it. Hopefully next week my body will catch up to all the good choices I've been making
and poop
and I'll see a good loss.
The other piece of Weigh-In Wednesday that I want to talk about today is clean eating. I'm not going to sit here and tell you that I'm a 100% clean eater, but I will tell you that I've made a lot of changes to my diet and I aim to eat mostly clean whenever I can. Yes, I want to lose weight and be skinny, but more importantly, I want to be healthy. I don't want the chemicals that are in processed foods to be in my body. Plain and simple, I just want to be as healthy as I can for as long as I can and I believe eating clean is a big part of that. I'm still learning and have plenty of areas where I can improve, but if you look at my diet now compared to what it was six months ago, there's a lot of improvements. Here's my food intake from yesterday, just to give you an idea of what my typical day looks like as far as food goes. Some of it is clean, some is not, but there's a lot less chemicals in these meals than in what was in the meals I was eating before...
Water - H20
First and foremost, this is a staple for me. This big 24 ounce cup? Sits next to me all day long at work. My goal is to drink 3 of them by the time I leave work in the afternoon and another one at home throughout the evening. Cost? None. Benefits? Endless. Drink your water, yo! Disclaimer: you do not have to drink it out of a Red Sox cup but I highly recommend it. Getting healthy while concentrating on the fact that baseball season is less than a week away? Even better for your health.
I bought these muffins last week and as it turns out, I don't really like them very much. I'll eat up what I have but will then switch to something else for breakfast, something with less carbs than bread. I top it with peanut butter because it fills and sustains me, and is a better alternative to regular butter.
Packed with lean protein (99% fat-free ground turkey) and veggies (fresh organic red bell peppers, fresh organic green bell peppers, and onions), this meal has a lot of benefits. I get in at least a couple servings of vegetables, I can have a filling portion for not a lot of calories (< 300), and I'll stay full throughout the afternoon.
Afternoon Snack - Cucumber w/ Hummus
I need to add more snacks into my diet as this is the only snack I had yesterday. Another vegetable in my diet and I absolutely love hummus. Roasted red pepper is my favorite and 1 serving of 2 tbsp is plenty to go along with some sliced veggies.
I've been on a wicked salad kick lately and I'm not mad about it. I love getting in tons of veggies at once and there are endless ways to change up the flavors. I didn't have enough fresh produce to make a big salad for dinner so I improvised a bit last night and cooked a chicken breast (in 1 tbsp olive oil - healthy fat) and made a side salad with what I had left for veggies. I topped it with a light balsamic dressing... tons of flavor for very little dressing which equals minimal fat and calories.
I read a lot of blogs and it boggles my mind when I see people losing weight, working out, trying to get skinny, but they're not getting healthy. Processed foods, chemicals, diet soda... you may not be taking in a lot of fat, but you're taking in a lot of chemicals. Skinny does not equal healthy, and if you eat a lot of processed foods, my challenge to you this week is take stock of what you're putting in your body and make small improvements in order to be more healthy.