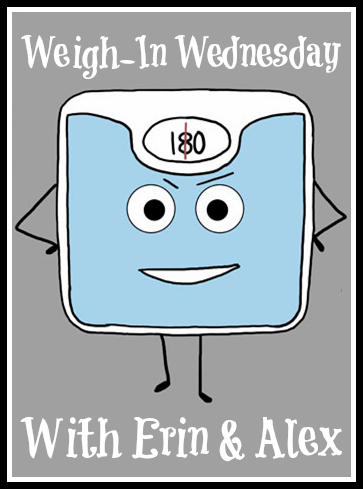 So this week I planned on reporting a big loss for my first weigh-in Wednesday linkup... the first week getting back on track and having plenty of weight to lose usually equals a pretty good loss, but that wasn't the case for me this week. This week I lost 2.2 lbs. I know any loss is good and a two pound loss is something to be happy about, but I also know that it could've been more.
I'm disappointed but not surprised, and this week wasn't without it's lessons. I know that being organized and planning meals is key
for my budget
, and this week proved just how important it is for my weight loss too. I didn't have time to plan ahead before I went to the grocery store so instead of shopping for specific meals, I stocked up on frozen Lean Cuisine meals. I know they're not an ideal meal, but they're convenient and I thought they'd get me through the week. I was wrong...
so wrong
. And snacks? I thought I could make it through the week without those too. I can't. After my normal breakfast of wheat toast and peanut butter, I'd have my Lean Cuisine for lunch and drink plenty of water throughout the day. That's it, nothing else. By the time I got home at night, I was
starving
. You know that kind of starving where you'd eat the paint off the walls if you could? That's what I felt every night. I'd eat a sensible dinner but that wasn't enough because I hadn't sustained myself enough throughout the day. I was still hungry and even though I tried to conquer the hunger pains, I caved in and shoved food in pie hole to stop them. I tried to keep the snacks healthy but most nights they were crackers, and lots of them. Not eating enough through the day is
definitely
not the way to go for me to lose weight!
This week I've already gone grocery shopping and planned my meals. I've stocked up on plenty of veggies to eat throughout the day as snacks along with hummus. I have crackers to eat for another snack along with Laughing Cow cheese wedges. If I need another snack throughout the day, I'll eat a piece of fruit. I made salads to take along with my lunches. This week I'll consume
less
calories than I did last week but I'll be eating
more
food and feel
more full
.
I'll also keep drinking my water. I like to get 100 oz. in every day and I was good at that during the first part of the week, but once I kept snacking at night I felt like I was blowing my week and thus didn't stick to my plan as much as I should have the remaining few days. That won't happen this week.
As for exercise, I've started back on the C25K program. It's pretty frustrating to start back at the beginning when I had made so much progress this summer and fall, but that's what happens when you totally give it up for a couple of months. I'm disappointed in myself for that, but I'm choosing to look ahead instead of behind.
Alex
had a great idea... that each week for our weigh-in we implement a new challenge! Nothing drastic, nothing over the top... just a few minutes added to your daily routine to help make small improvements. This week we both wanted to work on our abs after a few too many holiday indulgences so we're adding this to our workouts...
I'll leave you with this inspiration for the week ahead... it doesn't come from me, it comes from
Mama Laughlin
. In her
post yesterday
she said "you don't have to settle for mom jeans, or just feeling "okay" about yourself. You CAN feel amazing." I'm holding onto that this week to push me through... those works struck me, and I know they're going to stick with me too.
If you blog and posted a 'Weigh-In Wednesday' post, please grab the button above and enter your link in the list below. If you don't blog, feel free to leave your info in the comments section so that you can share in the journey. Whether you blog or not, I hope you'll click through the links in the linkup list below and get to know others and read about their fitness journey!