Oyyy... hello freaks and geeks, I'm here and working on a post for later today but before I post that, I just wanted to catch up with you for a hot minute. This week? It's just been shitastic and it's only Tuesday.
So remember the
Mommy guilt
that I was feeling yesterday because I sent Ryan to school even though he wasn't feeling the hottest? Well, it got thrown into overdrive. Shortly after I posted that, school called me for the second time and we agreed that it was time for Ryan to come home... poor little muffin was just feeling horrible. So I went and picked him up and then met my mom who took him back to her house for the day so I could come back to work. Crisis one dealt with for the day.
Then I was back at work, and that has kind of been a shit-show the last couple of weeks. One person in our department is 'sick' and is on her second week of not coming into work, so my work load has doubled. It's fine, I don't mind the extra work and I'll gladly take extra hours and overtime pay if need be, it just makes for really busy days that don't lend time to leaving for sick kids. But I was back and ready to tackle the rest of my day, until the phone rings again...
I glanced over only to see that it's the school calling again and I was confused... I'd already picked up my sick kid, what could they possibly want now?! "Hi Erin, this is Nurse Ann, you're not going to believe this but we have Emily here now and she's not feeling well and has a fever of 101°." I literally thought she was joking. Emily was fine when I dropped her off at school that morning, what is going on?! So I went back to school and picked her up... poor thing was a hot mess, even more sick than her brother. So I drove 40 minutes to my mom's house to drop off sick patient # 2 then drove back to work and continued to work until 8pm, then drove to meet my mom, picked up my sicklings, and walked in my house at 9pm. Gave the kids their meds and they both passed right out
immediately
and I could finally eat some dinner. Bed for me wasn't far behind and luckily we all got a good night's sleep before tackling today. Both kids are feeling somewhat better now but are home again today with their other grandmother. Hopefully by tomorrow they'll be back to school and our lives will be back to normal, whatever
that is
.
--
One
good
thing about yesterday?
Rammer Jammer, Yellowhammer, give 'em hell, Alabama! I'm not a die-hard 'Bama fan but I am a die-hard SEC fan and you'll never find me rooting against them so I'm pretty pumped about the Tide's win in last night's BCS game!!
--
Tomorrow is Wednesday so you know what that means...
Weigh-In Wednesday
! Grab the button below and link up with me and
Alex
to document your progress on your weight-loss journey.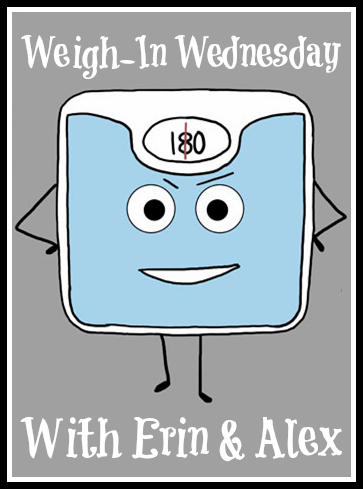 --
Last but certainly not least, if you're of the praying kind, please send your prayers and thoughts and love to the St. Clair family from my town. They lost their sweet 8 year old boy, Kyle, this morning. You can read more about their journey
HERE
. My trials seem trivial in comparison to what they've endured and they now face their toughest challenge of all as they carry on with their lives after the loss of their sweet boy.
--
I'll be back with another post later on today... hope you guys are having a better week than I am so far!