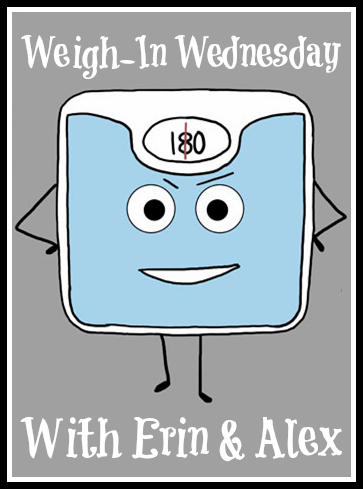 Good morning friends... I don't know how the weather is in your neck of the woods but here? It was 1° when we left the house this morning. That's painfully chilly
letmejusttellyou
. Such is life during winter in New England I suppose.
Also life during winter in New England? Sickness. My kids had the flu last
a couple of weeks ago
and thankfully they're over and done with that mess but now I have a bug that just won't quit. It's adding another level of crazy to my insanely busy days these last few weeks.
That leads me to work. Work is fine, but work is a lot of
work
these days. I feel like I could be putting in 60 hours a week and that still wouldn't be enough. I'm not though,
thankfully
, but it's just a crazy time right now and I'm looking forward to things slowing down just a little bit... I'm just not sure when that's going to happen.
So, sickness, busy, and work, that about sums up my days lately but let's get to the most important piece of Wednesdays,
my weigh-in
. You guys rocked my socks last week when I was feeling down in the dumps and all of your comments, Facebook messages, and e-mails pulled me right back up out of
my slump
. I had a good week, got back on track, am feeling good about the journey, and I am down 2.4 lbs.
Finally
a step in the right direction after a few weeks of yo-yo-ing.
I did a lot of things right this week to get that 2.4 lbs. loss. I stayed within or very close to my 1,200 calories most days, drank a lot of water for the first few days of the week, and got my run on a few days too. Those runs are feeling good by the way, and I'm so looking forward to my
first 5K
. I'm not even close to being built up enough for where I need to be for the race, but being back on track makes my runs feel so much better. Struggle? Yes, I still struggle, but it's a different struggle... I feel
good
while I struggle, if that makes any sense.
I also did a few not so good things for the diet this week. One night I drank
a bottle
too much wine
, which resulted in not feeling so hot the next day, which resulted in some poor food choices. I'm not beating myself up over it, but I know this didn't help in my weight-loss journey. Also, the last couple of days since I've been sick I've been drinking a lot of hot tea. I know tea isn't bad for me by any means and it's mostly water, I just don't drink enough of it to equal my water intake so that's suffered here lately. Also, my runs the last couple of days? Non-existent. Trying to run when it feels like there's a brick sitting on your chest and you can't stop coughing walking one room to another doesn't lend itself well to jumping on the treadmill and pounding out a couple miles. I plan to get back on track within the next couple of days, as soon as this sickness turns the corner.
So that's my progress this week... I hope you've all had a good week too! If you blog, grab the button below and link-up with us to share your journey. If you don't blog, please leave your progress in the comments section.
Alex
and I want to share in your journey and support you every step of the way!