Today I'm joining
Holly
&
Jake
for another Finish the Sentence link-up...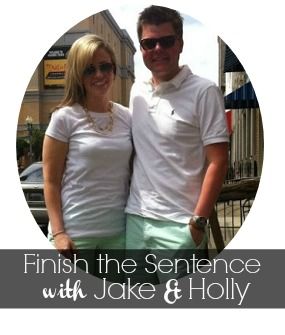 1. My favorite Christmas was....
as a kid I think it was the year I got the wool sweater AND Gap overalls that I wanted so badly. Ahhh, overalls!
2. The worst Christmas I had...
I can't think of any horrible Christmases but the hardest was probably the one after getting divorced. Things change, different plans are made, you have to split time with your kids on Christmas, and you just feel
empty
.
3. That one gift that made me scratch my head and say, "Hmmmm" was...
the first year that my parents were divorced and my dad did his own Christmas shopping for the first time. I was in college and he got me a Chia Pet.
4. One year I....
opened and then re-wrapped the gifts that my grandmother had dropped off for us a week before Christmas. My sister and I were anxious so we opened carefully then taped them back up and stuck them back under the tree. That was the one and only time I snooped for gifts!
5. I think the worst gift to give is....
cheap clothes (which was exactly what was in # 4).
6. At Christmastime I typically....
spend way more money than I should! I've been reading a lot on Facebook and blogs about how much people spend and how many gifts they get their kids... obviously to each their own but in comparison I think maybe I should tone it down a bit. But I probably won't.
7. Typically, family Christmas....
is quiet and low-key because I have a small family.
8. If I could change one thing about the Holiday season....
it would be that my company would bring back Christmas bonuses
show me the money
.
9. It is so hard to buy for....
my dad... he doesn't need or want anything.
10. My favorite Christmas tradition is....
putting presents away and getting the house back to normal :) I love Christmas but I also love when it's over!
11. Santa, baby, bring me a ....
new dishes, new bedding, clothes, shoes, and a sack full of $10's and $20's!